Services To Get Your Car Ready For Spring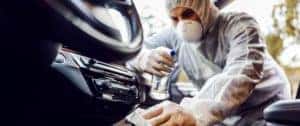 As spring rapidly approaches, have you been thinking about what exact services or work you need for your vehicle overall, optimal health? If so, our service centers located in Greenfield, Milwaukee and Madison are here to assist you every step of the way. Our team of automotive experts will provide detailed insight for you when needed and will try their best to have you leave the service center satisfied with the job performed.
Air Filter Service
While the warmer weather is pleasant for everyone, it does have some slight disadvantages especially initially for those who have allergies. This coupled with a clogged up air filter can lead to some rough times ahead.
You should aim for about every 12,000-15,000 miles of driving to replace the air filter because over time the quality of air within the interior will become poorer. This is a general recommendation which depends on the vehicle you own and how often you do drive.
Car Battery Service
You should make sure your battery is up to speed with your upcoming plans to venture out as the temperature rises. This recommended time frame is about three years to change out your battery. This can also vary depending on the amount of time you spend driving so it's important to get it checked at least during other services to see the current status of your battery.
Brake Service
The spring weather could potentially bring forth some rainy conditions as the climate adjusts so you want to make sure your brakes are in check to avoid possibly hydroplaning without control. You should get your brakes serviced every four to six months while taking into account the daily terrain conditions you drive on which can speed up this process.
Schedule A Service In Milwaukee, Greenfield or Madison
Different seasons can bring forth new obstacles to take into consideration and we are here to help you with your automotive needs. If you are in need of a service, please contact us and schedule an appointment in Milwaukee, Madison or Greenfield.